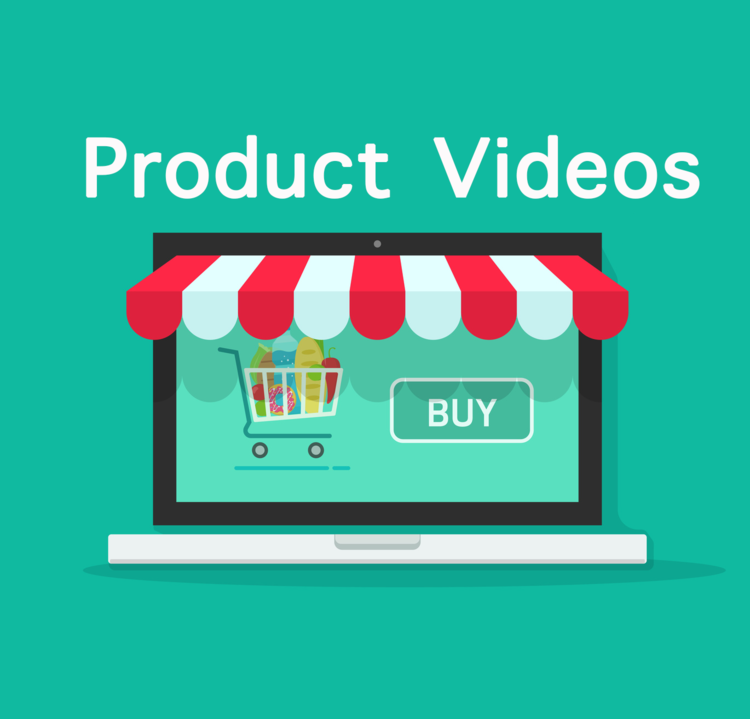 Online shopping continues to increase among consumers, and the plethora of products available is growing bigger as well. Shoppers are purchasing anything from meal delivery to clothes, as well as non-tangible products such as software and various services. Regardless of the product or service, it is more important than ever to ensure you are providing consumers with as much information as possible about your product. Product videos are an important "must have" when vying for online sales due to video's ability to provide greater detail and clarity of products and services.
These are just a few of the many benefits of using product videos for e-commerce or online marketing:
1.     BUILD BUYER CONFIDENCE
Buyers are making more and more purchases online, and this number continues to increase yearly. According to recent studies, "shoppers now make 51% of their purchases online, compared to 48% in 2015 and 47% in 2014"*. Buying online is convenient, however, it is difficult for buyers to know exactly what they are buying when they don't have a physical product to hold, figure out how it works, see how it fits, or ask questions face-to-face with a store associate. Buyers look for different avenues to making more informed online purchasing decisions to avoid the dreaded, "it's not what I thought it was" scenario, which requires timely and costly returns. Luckily, videos have quickly become an effective tool for increasing consumer confidence when making purchases online (see our post on Benefits of Video). Including a product video gives viewers more product information in a quick, visual medium that allows 360 views, product demonstrations, and clarification on a complex products or services. This helps boost confidence among consumers!
– 71% of consumers say that video is the best way to bring product
features to life.
These are numbers you cannot afford to ignore when trying to gain consumer trust and confidence.
2.     GOOGLE (AND PEOPLE) LOVE VIDEO
The increase in video consumption by consumers in insane, where 55% of people in the U.S. watch videos every day and 78% of U.S. internet users watch videos online every week! This trend is expected to grow and should not be ignored by companies. If our consumers' love of video is not enough to convince you why product videos are favored over text or photos, then the fact that Google favors video should win you over.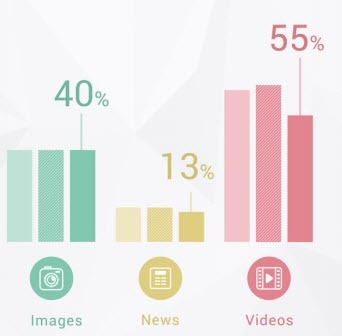 Google works to give their consumers what they want, which it knows is video. Combine this with the fact that Google also owns Youtube. What does this mean for product videos vs. pictures or text? A lot! Keyword searches on Google returns a whopping 55% that include video content, with 8 out of 10 of these videos originating on Youtube.
3.     INCREASE CONVERSION
Increasing buyer confidence, as we previously discussed, naturally leads to increased sales conversions since buyers are more informed and familiar with the product to make an immediate purchase without further follow-up.
In fact, Shopify* states that consumers are "64% more likely to buy" after watching product videos. This is a number that can't be ignored when competing for customers and sales online.
4.     INCREASED SHARING
The internet loves to share video! The vast majority of online video consumers share with others online (92%! – hubspot). Why is this important to your company and product? Brand Building and Product Marketing! Every time an online user shares your company or product video, they are marketing your products for you and getting your brand in front of other consumers.
It is important to take advantage of this phenomena by creating effective product videos that not only showcase your product, and but also engages audiences to continue watching and move them to share with their various online communities. You can check out our previous post to get an idea of effective videos for engaging viewers. See the Effective Videos examples here.
6.     REDUCE PRODUCT RETURNS
Product returns are a much bigger problem online than with traditional purchases made in brick-and-mortar stores due to the consumers' inability to try out or test a product in person. The best way to overcome this problem is by providing as much detail about the product as possible. A written description and pictures can only show so much, and most online consumers prefer video over reading long descriptions. Plus, viewers can process this information faster in video—60,000 times!—than in text. This is extremely important considering how quickly internet users move on to the next page.
For physical products such as clothing or other items, this is beneficial so consumers can see exactly what the product looks like, how it may fit, how it works, etc. When considering non-tangible products, like services or software, an explainer video can specify exactly how the service or software works, what to expect, and how to use it. With fewer unknowns, consumers are less likely to return a product or ask for a refund for services or software due to dissatisfaction.
NEED MORE INFORMATION ON VIDEO PRODUCTION? WE LOVE TO TALK VIDEO! CONTACT US NOW TO CHAT OR CHECK OUT OUR OTHER BLOG POSTS.
Article sources on video statistics:
*http://www.invodo.com/wpcontent/uploads/2014/02/Invodo_Video_Statistics_The_Marketers_Summary_2014.pdf
* http://fortune.com/2016/06/08/online-shopping-increases/
* http://tubularinsights.com/video-marketing-statistics-media-brands/
* http://tubularinsights.com/youtube-google-search-results/
* https://www.shopify.com/blog/19542212-how-to-use-video-to-increase-conversions-and-sales-in-your-ecommerce-business
* https://blog.hubspot.com/marketing/video-marketing-statistics
* https://www.entrepreneur.com/article/245003